Excited to be Reviewing GlowHill Glam Gold Masks!
Who doesn't love a little extra glow? ✨🙋‍♀️ I know I do. I've been seeing these GlowHill products all over the gram for the last couple of months so when the chance came up from 08Liter to try them out for a small trial fee, I hit that button so quickly.
This set came with a cute headband, some adorable stickers, 5 Total Solution Glow Ampoule Pads, and 5 GLAM GOLD Make Up Facial Masks.
I used Ampoule pads first, these are like a peeling pad for exfoliating. It contains Inca Omega Oil which is a natural oil that is a antioxidant. When you buy these in a full package, I believe it comes with 21 pads and I read that if you use it consistently you will get a total transformation in 3 weeks. I've used 3 out of the 5 pads and I don't visibly see all that much difference, but my skin does feel softer.
✨The GLAM GOLD Make Up Facial Masks are a make up primer mask, which is actually a really cool concept. The shimmering ingredients give your skin a gold glow effect and your skin will look radiant. I used this before I had a client meeting and oh boy did it make my skin glow, I had to tone it down. I will be using the rest of these for when I go out with the friends and I can appreciate the glow in all it's glory. There was a lot of gold essence left over as well in the packet so I was able to distribute the glow to my neck and arms.
✨ I am actually really loving these masks, I think they are fun and definitely give you an all around glow on your face. I love the concept of a make up primer mask, I've never seen one like this before and I think it's worth the the hype. I know they have a pink one that I want to give a try as well.
Ok but I thought of this guy the entire time I was reviewing this product.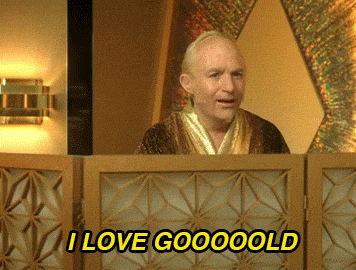 Did I just date myself? Why does this move feel like an entirety ago but also like it was just yesterday?? Anywhooooo....
Have you tried any GlowHill products yet? What have you thought? I am going to be reviewing another one of their products soon so stay tuned!
Until next time, byeeeeeex
Full disclosure: I did receive this product for a discounted price in exchange for my honest review. All my thoughts are my own.